Beauty devices got under my skin, and now we're on Netflix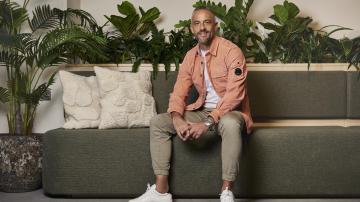 How I made it: Laurence Newman, co-founder of CurrentBody
Laurence Newman sat stock still and stared at the WhatsApp message he had just received from a contact in the fashion industry who was watching the hit Netflix series Emily in Paris.
"He said, 'You won't believe this – your mask is on Emily in the opening scene,' " recalled Newman, the co-founder and chief executive of CurrentBody, which makes and sells electronic beauty devices, including the best-selling LED face mask.
He quickly realised the impact of such a product placement. "Every time we see a celebrity in a CurrentBody mask, there is excitement … but this was [a] different level. I hadn't appreciated that Emily in Paris was so global – the reach was crazy."
The exposure will help sales of the £280 mask, which claims to reduce wrinkles and improve skin tone, reach £20 million this year, Newman estimates. This should take CurrentBody sales to £86 million in total, up from last year's £59 million with a £4 million pre-tax profit.
The popularity of the LED mask, launched in 2018, leads many to assume that CurrentBody has been "an overnight success", said Newman, now 48. But it's been "a very long journey".
He grew up in Cheshire with a surgeon for a father and a maths teacher for a mother, but "I got absolutely none of their intellect. I failed all of the sciences – I remember the teacher were like, 'Something's gone wrong [with you].' But still, "I was one of those people that everyone thought, 'He'll find a way of getting by.' "
On completing a degree in business information studies at Manchester University, he was "convinced" he wanted to start his own business. His father planted the seed of getting involved in the beauty industry by being part of the team who invented an anti-ageing nutraceutical product, Imedeen. "As much as he was a surgeon, he was always interested in natural health products," said Newman.
His father made some introductions to contacts who were making natural alternatives to hormone replacement therapy (HRT) treatments for relieving symptoms of the menopause. "I was just out of uni and pretty wet behind the ears, but started to find products to sell," said Newman.
As time passed he was introduced to a company in Bordeaux that was making an electrolipysis machine. This helped people to lose weight by passing electric currents through the skin to break down fat cells. Newman became a distributor, selling the machines to spas and clinics at £4,000 a pop, and he got his first big break in 1999 when a journalist covered the benefits. "We had a double-page spread with a headline saying, 'Could you lose two pounds or more in just 60 minutes?'"
Newman was inundated with inquiries about the device, called Gaia Form which he sold through his distribution firm, Medical Innovations. Later, he saw a chance to rent the machines to cruise companies, with the electrolipolysis devices being used on 30 cruise ship spas, including P&O liners.
He also realised he was missing a trick by selling only to businesses and having nothing to offer to consumers to take home. "After a treatment, they'd be sold a pot of cream … whereas I just made a small amount of money on the weekly rentals." His solutions was to developed a mini-version of the Gaia to be sold on the ships for $500 each. "They were $125 to buy and we sold them to the ships for $250."
This marked the start of Laurence's foray into consumer electronics, and in 2009 he was introduced to Andrew Showman, his CurrentBody co-founder. They met for a coffee in Manchester and instantly hit it off. "He's an absolute whizz online and was selling digital cameras. He was doing £7 million [in sales]" said Newman, adding that there were surprising similarities between selling cameras and selling beauty devices. "It was all about customer service and education."
They started CurrentBody the next day and owned the firm 50/50 from the outset. "We've never had an argument and we have no overlapping skill sets," said Newman. "He's brilliant at e-commerce and I had all the contacts and the experience in beauty devices."
He gradually made his exit from his Medical Innovations business, which he had sold to a rival. Eager to go full-time on CurrentBody, he didn't complete his earn-out, which meant losing out on some of the proceeds of the sale and a "good salary".
"It was a genuine gamble; I had to remortgage our house," he said.
An early success for CurrentBody was signing a deal to distribute the Clarisonic skincare device, which was bought by beauty giant L'Oreal in 2011, and by 2017 it contributed 60 per cent of the firm's annual £4 million sales. But, Newman recalled: "It was an absolute distorter in terms of business model. We had an over-reliance on one product and an over-reliance on one territory." CurrentBody's sales were 95 per cent in the UK at that point.
In the years since, much has changed. Newman raised £15 million from venture capital firms – in two rounds of fundraising in 2018 and 2019 – to help launch his firm's own product range, including the LED mask.
But taking institutional investment was a steep learning curve, Newman admitted. "There are pushes and pulls in terms of what [venture capitalists] want out of it. There are different personalities involved; you've got people on your board who are put there – you don't choose them."
Newman counted on his chairman Michael McGrath and non-executive director Simon Cooper, the outgoing boss of travel company On the Beach, to hero him navigate the transactions. The latest was in November 2021 when CurrentBody sold a majority stake to investment firm eComplete for £50 million. By that point, it had 17 international websites and 14 million users around the world.
The entrepreneur, who is married with four children, says he remains thankful that he stuck to his guns on the potential for beauty devices when faced with naysayers. "Our strategy was basically to be this expert in a field that didn't exist yet. Now it's proven to be right, but at the time, if you were an investor in my business, you'd be like: 'Why are you just doing devices? Why are you not doing creams and potions?'
"I believe that there's always room for one expert in a sector – and we are going to be that expert."